Moderators: mad*moo73, Rivergirl
Welcome Lee.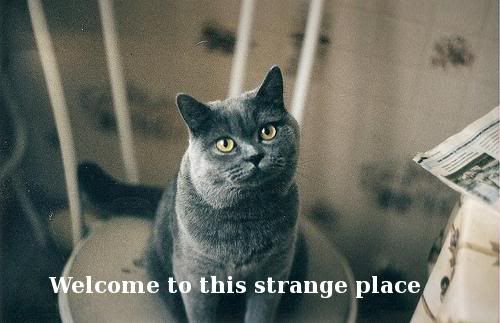 ---
LMAO Pete, what are you trying to do, scare off the newbies? We're not weird at all, we're just.... different
Big welcome to you Thunder - and yes, you're hired! Send Ree back in sometime, will you, she owes me a few rainfall updates for the map
---
Cumulus
Posts: 64
Joined: Sun Mar 06, 2011 11:00 pm
Location: Balnagowan, 20km north of Mackay
Contact:
Great to see you joined Lee, I will help contribute to the NQ thread and keep it going since RWM is abandoning us
.
Lily I just went into hibernation for the winter. Gee I hate cold weather and there is usually nothing happening weather wise. We even managed a frost this year
, think I just stuck out my toe that morning and decided to stay in bed (happened a few times over the winter). Things have warmed up and starting to get abit interesting, I will try and contribute more.
(I love all the different smilies
)
---
Admin/Moderator
Posts: 3627
Joined: Sun Nov 22, 2009 6:04 pm
Location: Ferny Creek VIC
Contact:
Thunder I don't mind Robyn or Rivergirl
Nice to see you back Ree
---
Hi Fellow weather nut or Tragics.

Live out in PAkenham, Vic.

I got to do work exprience at the Vic Region Office at the old Lonsdale St Building. Love the Week!!

I follow the Melbourne Storm as well(Not because I like weather but got dissatified by the AFL)


Talk soon

oz
---
Hello there Oz, welcome to you
---
Where to start?

My Name is Peter, I have always followed storms, as they have come into canberra. I have weather knees from too much hockey, I was in Darwin for Cyclone Tracy, and a couple of smaller cyclones. Whilst I was in darwin I had a phobia about thunderstorms, which I only overcame by watching them really close up, now I am hooked. I am 40, I have 3 kids who don't come when I go out into the storms armed with my 40th birthday present, a Nikon D3000, a tripod and an umbrella. I found this site when a guy suggested I follow the twitter profile, which i now do. I have taken 3 decent photos of lightning, many photos of clouds, and I am grateful to the pro photographers giving me pointers. I am a long time WZ member, but I know people who are on here and not on WZ - so I can interact with them beyond the twitter 400char limit.

I have set up a redbubble profile, with the dim hope of raising money for new lenses, cameras, etc.

I am interested to see the discussions and other member photos - I learn best from interaction and example.
POW! ZAP! I don't chase storms, I patiently wait for them to come to me.... Usually the soaked guy with the dry camera, atop a mountain, out of running distance from the car...
---
Site Admin / Senior AWF Forecaster
Posts: 3514
Joined: Mon Nov 23, 2009 8:49 pm
Location: Cheltenham
Hi Peter!!
It is fantastic to have you on board!!
You are one of many that has transferred over to the AWF and it's great to know that you follow our twitter feed (for when we have time to update it!!)
Your experiences through Tropical Cyclone Tracy and others must have been amazing! You sound like me when I was younger. I also had a small phobia with lightning, but I've overcome that like you.
I think when you say that you are 'hooked', we know what you mean. Are your kids at all interested in weather? Or are they too young yet to appreciate the true power of it all?
Don't be afraid to share your photos in the relevant threads either, or ask questions!! We're all here to help and have a great time!
Thanks for joining!!
---
Hi All,
New member who has grown tired of the hijacking of another forum by one or two members claiming to be god's answer to the weather. I actually recognise some of the member names in here so it's good to see. I noticed Ciarns AWS isn't on your mp.
Cheers Wetspot (Cairns - deep ,deep north))
---
Admin/Moderator
Posts: 3627
Joined: Sun Nov 22, 2009 6:04 pm
Location: Ferny Creek VIC
Contact:
Hi Wetspot from Cairns, welcome to the AWF
When you get a chance let us know how the weather goes up there. We don't have many people from Qld.
---
Forum Owner
Posts: 5772
Joined: Sun Nov 22, 2009 11:17 pm
Location: Knoxfield, Victoria
Hey WS
Welcome to our little community
We are small in number but we love to talk about weather all the time and other things
Feel free to hijack the QLD room
It is your home just as much as ours
We are excited to have another QLDer!!
---
Who is online
Users browsing this forum: No registered users and 4 guests